ToolBar Options for ShoreTel Call Managers
The Personal or Professional Call Manager has long been a key element in the success of the ShoreTel solution. This desktop call control application enables you to easily manage your phone calls. "Point and Click" to take action, or "right click" on an active call to immediately list all of your options. (You will find that there is always more than one way to do things in the ShoreTel Call Manager). The Call Manager can be customized by the system administrator. Each user can have up to 6 toolbars each supporting up to 24 buttons! You can dock or move these toolbars around and they can be hidden from the View menu in the Call Manager user interface. The System Administrator can create "Global Toolbars" and push them out to users as part of a class of service options.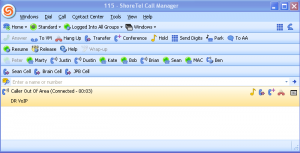 You can create buttons that monitor other members of your team, launch applications, transfer live calls to remote cell phones! If you are using the Integrated toolbar (see previous post) as part of the ShoreTel Enterprise Contact Center, the list of options for your toolbar can include call center specific functions. These functions might include Release with Code and Wrap Up with Code, both generally used in a contact center environment. ShoreTel Toolbars are easy to create, push out to users and offer a wide range of customization options that enable you to create a true "air traffic control system" for manipulating your phone system!   The graphic shows three rows of buttons that are a combination of user-specific, and "Global" that were pushed out to Call Center agents via a COS option.   If the PCM looks strange to you,  it is because you are on a version before 8+ which changed to this new look and feel.